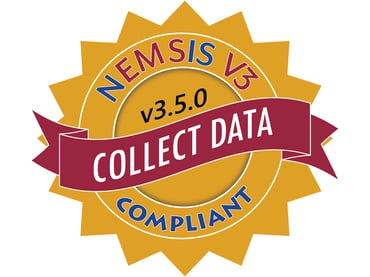 AIM EMS Software & Services Successfully Achieves NEMSIS V3.5 Compliance
Slippery Rock, Pa. - AIM EMS Software and Services has achieved approval for the NEMSIS v3.5 update. AIM is now assisting ambulance services in the states required to make the switch to NEMSIS v3.5 compliant patient care reporting software.
The National EMS Information System (NEMSIS) has been working with EMS leaders to update the previous standard for data collection for patient care reporting. After the release of older NEMSIS versions (v3.0, v3.4), providers expressed the need for changes. These changes included fewer national requirements to worry about, more accurate call dispositions, and easier data exchange with hospitals.
NEMSIS has implemented these updates with the hopes of improving the overall reporting and data collection experience – from the providers in the field to the people developing new care protocols. The end goal: the best possible care for patients.
AIM has the task of delivering NEMSIS v3.5 compliant ePCR software to ambulance services across the country. AIM is now helping EMS services of all kinds – government, private, hospital-based – onboard to NEMSIS v3.5 compliant ePCR systems.
Here are a few of the most important updates for NEMSIS v3.5:
More accurate reporting overall
Less redundant and less confusing data input
Reduced national requirements and more state-level control
Easier exchange of information (with hospitals, and CARES)
Expansion and update of pertinent negatives
About AIM EMS Software & Services
AIM has over 30 years of knowledge and experience in ePCR data collection, EMS billing services, dispatch software, and EMS revenue cycle management. With AIM's dedication to reducing EMS provider headaches and improving revenue, they've partnered with all types of ambulance services. For more information on how AIM is implementing updated NEMSIS v3.5 ePCR software, call them at: (800) 726-4690, or reach out on AIM's website.