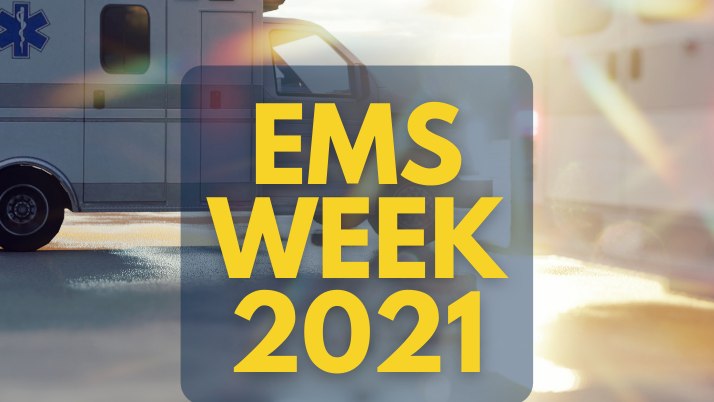 In November 1973, President Gerald Ford announced that November 3 – 10, 1974 would be the first "National Emergency Medical Services Week." The American College of Emergency Physicians (ACEP) played a critical role when EMS Week was established and continues to lead EMS Week each year in partnership with the National Association of Emergency Medical Technicians (NAEMT).
When EMS Week was first introduced, emergency medical services was still a growing profession. Since the COVID-19 pandemic, appreciation for emergency services personnel has markedly increased, with front-line workers everywhere being recognized for all they do to support their communities.
While we at AIM support EMS professionals like you year round, EMS week is particularly important to call out how heroic and essential you are. Share with us how you are celebrating EMS professionals in your community with the hashtag #CelebratingEMSHeroes
This year's EMS Week theme is "This is EMS: Caring for Our Communities" and will be celebrated from May 16 – 21, 2021. Topics for each day include EMS Education Day, EMS for Children Day, EMS Recognition Day, and others.
How AIM Celebrates and Supports EMS Professionals
At AIM, we take great pride in providing EMS software and services to EMS agencies. We're honored to celebrate EMS personnel everywhere who play a critical part in their local communities and the U.S. healthcare system. Without their dedication, perseverance, and professionalism, our communities would not be what they are today.
We know that EMS professionals and agencies need efficient tools and services to make their everyday easier. That's why we provide the industry's most affordable, easy to use, essential software and services for EMS agencies and are dedicated to the success of our customers. We deliver EMS solutions that empower EMS agencies to streamline workflows, improve efficiency, and grow productivity. As a single source of both EMS workflow, including dispatch, ePCR, and billing software as well as EMS billing services, expertise, and Revenue Cycle Management (RCM), we offer everything you need to successfully manage your EMS agency.
EMS Software
Affordable, integrated EMS software modules with easy-to-use workflow for more streamlined, efficient, and profitable operations.
EMS Billing Services & Expert Guidance
Eliminate staffing concerns and costs while gaining full transparency into your daily EMS billing operations. Our expert EMS billers are trained to reduce errors, denials, and speed-up the reimbursement process; all at a much lower rate than other comparable outsourced services.
Outsourced EMS Billing Services
Expert Billing Assessments & Consulting
EMS Revenue Cycle Management (RCM)
Short-term billing service help
Ready to learn more about how AIM can help you fine-tune your team, cut costs, and more? Contact us for a free demo.