Edwards Ambulance Service Needed a Solution to Increase Their Flexibility and Allow Them to Work Anywhere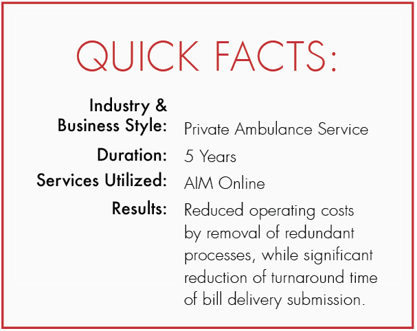 EXECUTIVE SUMMARY:
For 50 years, Edwards Ambulance Service has been an established private ambulance service in upstate New York. While continuing to adapt and grow with technology was built into their business plan, they more aggressively pursued options that gave more freedom and provided better security, reliability, and flexibility to their software systems. Accessibility was the biggest issue that they faced. Being a small business, if a
computer went down, they were unable to operate without the support of an IT specialist. Updates were also more time co
nsuming, and required third party IT companies. They needed a solution to take the stress away from their systems, while increasing their flexibility to work from anywhere instead of being tied to a physical computer and software.
ABOUT THE COMPANY:
Edwards Ambulance Service has been a family owned and operated private ambulance service for 50 years. Founded in 1964 by Irv and Martha Edwards, it is operated by their son Gary today. They have operated as a rural, small town ambulance service, handling emergency, non-emergency, and long distance transportation ambulance services.
THE CHALLENGE:
The biggest challenge that Edwards Ambulance Service faced was the ability to adapt to accessibility limitations. As internet capacity has continued to expand, Edwards wanted a platform that they could access anywhere, without limitations of physical systems. Physical systems required a large investment in IT and computer maintenance, and Edwards didn't have the bandwidth to handle lapses in service due to computer failure or servicing.
THE RESULTS:
Prior to implementing AIM Online EMS Workflow, Edwards was paying for redundant systems with a two week turnaround of bills after the date of service. With AIM, Edwards currently has bills going out within three days of the date of service, with a significant decrease in overall operating cost. The in-house workload has been lessened substantially, and all of the redundant steps and systems have been eliminated.
"AIM is a user friendly program that flows well and comes with fantastic customer service. Everyone from sales, training, billing, and customer support is knowledgeable, courteous, and always willing to help. They are all willing to go above and beyond to help their customers and no question is ever too small or too big."

– Stephanie Jennings, Billing office – Edwards Ambulance Service Inc.
On top of this, this efficiency has allowed Edwards to work independent of a physical location, without any capacity limitations. They no longer are restricted and bottlenecked by a down computer, or losing potential client information through crashed computer systems. By having all data secured offsite, Edwards Ambulance Service has been able to keep the focus on what matters most – their patients. EMS is the backbone of our medical industry, and the immediate point of contact for many patients. Edwards Ambulance Service is now able to keep that focus front and center, and let AIM take care of the software systems.
HOW DO YOUR EMS OPERATIONS COMPARE?
One of the biggest values AIM brings to its customers is the adaptability to the size and variety of each customer. Whether they are a large centralized hospital or a rural ambulance service, AIM is able to provide the same customized service to streamline the patient and billing process, freeing up your business to focus on what matters most. If you have more questions about how AIM can benefit your ambulance needs, give us a call. Our knowledgeable team can schedule a free evaluation to determine which solution best fits your needs.