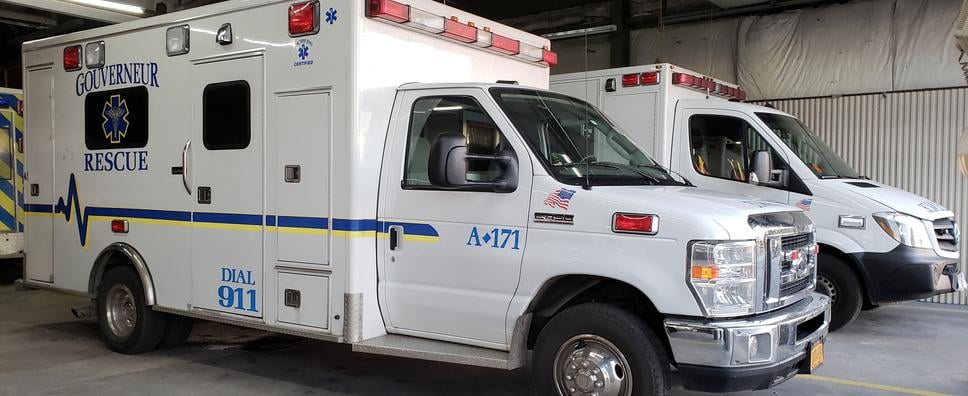 During its inaugural year in 1966, the Gouverneur Rescue Squad in St. Lawrence County provided the norm: Basic Life Support which operated with one ambulance. Over a half of a century later, the small and secluded squad in Upstate New York provides Advanced Life Support, as well as basic life support, and the ambulance fleet has increased from one to four equipped Advanced Life Support ambulances 24/7.
The mission to provide compassionate, professional Emergency Medical Services, in the safest and most efficient manner possible, has never changed. Mark Deavers, Gouverneur Rescue Squad Executive Director, knows and accepts the role of carrying out elite EMS services. Afterall, he represents a legacy in the EMS world since his father was a paramedic and his mother a nurse. That background allowed him to see the ins and outs of a crucial industry, as well as witness the flaws in its promotion process. The desire to fix those flaws foreshadows his ability to be a well-rounded Executive Director.
While his standard belief is the necessity to have the right personnel in the right positions, Deavers specifically wants to make changes in EMS leadership. Bluntly stated, Deavers is concerned that EMS management development needs improving, starting with a better checks and balances process. For example, awarding a paramedic, with limited experience, to progress to a leadership role with no tried and true credentials weakens the entire system. Simply working within the field is not enough to warrant a promotion.
Deavers does not believe in reiterating what people want to hear, he doesn't claim to have all of the answers, and especially isn't able to be everywhere to remedy every situation, but his goal is to surround himself with others who can help strengthen the system. The how is through applying the EMS industry's growth in technology, educating each member in his/her specific role, and fixing the breakdowns as they happen, so that he can help empower employees.
Having a paramedic background and living the craziness and chaos as a child helped shape him into an eventual leadership role. His experience allows him the ability to take each isolated part of EMS, assess it and improve it. He believes this key to strengthening any association, group, squad, etc.
The rural area where Deavers operates is directly south of Canada and small in nature. This contained environment is the perfect opportunity for Deavers to 'squash the too many Chiefs and not enough Indians scenario', through education at a controlled pace and allowing for each member to know and understand his/her job before preparing for the next level. Deavers is one of many taking strides to strengthen and improve the EMS system.