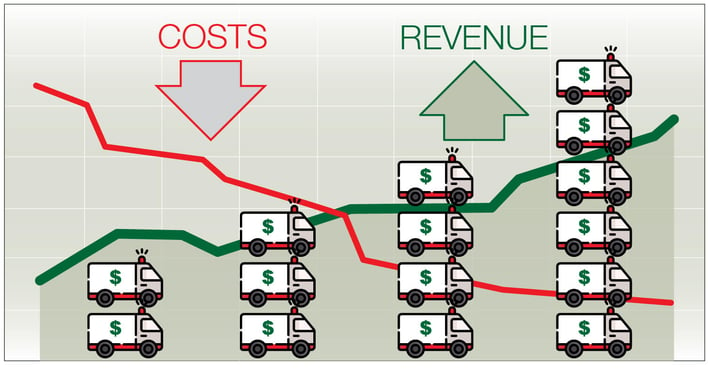 Are you wondering how to reduce your EMS service's costs? You're not the only one. In recent years, EMS has weathered a barrage of storms - rising prices, reduced reimbursement, staff shortages, supply deficiencies - one after the other. Across the country, ambulance companies are asking the same question: how do we survive these repeated onslaughts?
During hard times, it's prudent to take a moment to regroup. Sometimes, when you hear bullets zipping past your ears, the best thing to do is hit the ground and assess the situation. EMS is being bombarded from all angles. This article will help ambulance companies consider ways to reduce costs and strengthen their foundations.

Like an internal bleed, some EMS companies are hemorrhaging funds and don't even know it. Let's look at the issues and discuss solutions.
What are the Biggest Problems Facing EMS?
Before fixing the problem, we must find the problem. During times of heightened stress, it's easy to fixate on one issue; however, it's vital to take a moment, sit back, and consider a broad spectrum of possible issues.

While each ambulance system will have unique struggles, there are some common trials facing EMS.

Here are several common burdens to EMS:
Widespread costs increases. Inflation, rising fuel costs, and supply shortages have created a triad of turmoil for EMS everywhere.
Low reimbursement. EMS is still struggling to receive reimbursement for calls where patients are uninsured or when a patient is not transported to the ER. Until laws change, EMS departments must carefully manage the money they are due.

Supply delays and equipment shortages

. Supply problems have caused the EMS department to be short on medications, equipment, and even ambulances. During these times, it's essential that a company function at maximum efficiency.

Labor shortages

.

The paramedic shortage is making it difficult to reduce overtime expenses - and it's killing company morale. As you consider how to find and support paramedics and EMTs, don't forget about dispatchers and billers. Do your billers have the resources and training needed to ensure consistent reimbursement? Inexperienced billers may be leaving money on the table.
Let's talk about several ways EMS can reduce expenses amidst these struggles.
How Can EMS Services Reduce Costs?
Let's look at several ways your EMS service can save money. As you'll see, these don't involve letting staff go, reducing wages, or shutting down ambulances. These cost reduction techniques emphasize improving your current practices and making good decisions for the future.
Here are several ways EMS can reduce costs:
Chart your costs to eliminate waste
Forecast decisions to improve longevity
Examine dispatch, documentation, and EMS billing systems
These temporizing measures can help your EMS company stabilize while waiting for storms to calm. Let's explore them in detail
Charting Ambulance Services Costs
Before you climb out of a problem, you must assess your current costs and ensure there isn't anything slipping through the cracks or hiding under the rug. In short, make time to chart the company's finances. This simple task can help identify areas of waste and inefficiency.
Now would be a good time to categorize priorities. There may be changes or cuts that will only cause minor losses to daily workflow. Prioritize your staff. Losing staff means more overtime costs and reduced morale among employees and managers.
During this EMS crisis, it can be difficult to get your thoughts in order. Taking the time to write, chart, and document expenses will give you a map as you move forward.
Forecast Decisions: Weigh Best and Worst-Case Scenarios
Before making a decision, it's important to consider the worst and best-case scenarios. During challenging times, this thought exercise can help determine if a decision is worth time and investment.

If a decision has major risks with minimal potential gains, it may be prudent to steer clear. Use this simple approach to keep your mind thinking practically. When fear controls decisions, the result is knee-jerk reactions that may not be in the best interest of the ambulance service.

Now let's talk about your daily tools: are they costing you too much?
Consider the Return on Your Current EMS Software Tools
Could your dispatcher's software be revamped? Is your current ePCR platform the best price for the service? How about your EMS billing department - is it capitalizing on all reimbursement potential?

EMS has a hard time as it is maintaining regular reimbursement - what cash you have coming in needs to work for you. During hard times, a company can't afford to pay for tools and services that don't deliver.

AIM is in the business of providing quality tools to ambulance companies. If your tools aren't up to par, we can help.
How AIM Can Reduce EMS Costs
If you're looking for top-of-the-line EMS software tools, AIM can help. We've been in this business a long time, and we know how to deliver the software tools and services ambulance companies need.
AIM's tools to help save money:
Dispatch and ePCR software
EMS Billing software
Professionals EMS billers and revenue cycle management
Below, you'll find more information on how our tools can save you money and help your service overcome difficult times.
Affordable Dispatch and ePCR Software
Are your dispatch and ePCR software tools as affordable as they can be? Do they have a bunch of extra features you're paying for but don't need? AIM offers EMS dispatch software and ePCR software - both are affordable and customizable based on your company's unique situation. Further, with AIM, you can integrate these programs.

During times of crisis, it's critical to ensure these fundamental tools are working for you (and not the other way around). Sometimes, the difference in price between EMS software tools per month is substantial. It's worth looking around.

Now, let's talk about billing tools.
EMS Billing Experts and Leading Reimbursement Tools
Is your current billing system working? Amidst economic trials is not the time to let those dollars slip through your hands. Let's talk about some common ambulance billing pitfalls and how AIM can help.
Here are several ways EMS billing departments may struggle:
Less experience. If your EMS billing department cannot stay up to date on best practices, your service could be losing money.
Subpar tools. You may have competent billers but subpar billing tools or workflow. Even the best baseball players can't hit a homerun with a toothpick. You need the right tools.
Your current ambulance billing service is overpriced. Like anything, it never hurts to shop around. Can you get a better rate? Many services are ready to help, and some may scale to your needs in service and price.
If your EMS billing department suffers from any of these issues, AIM can help.
Some companies offer EMS billing experts; some companies offer billing software: AIM offers both. This one-two punch makes us effective at transforming an ambulance company's reimbursement. We understand the technical side of EMS billing and the human element.
If you're looking for affordable, customizable billing tools, then AIM's premium EMS billing software will help. Our tools have the bells and whistles - but only the ones you want.
Further, if your company is struggling to maintain a full staff of ambulance billing experts, AIM can help. We have certified ambulance billing professionals who know how to collect every dime your company deserves. AIM has certified billers who know how to adapt to your EMS agency's needs.
EMS Revenue Cycle Management
Is your EMS revenue cycle running at maximum efficiency? If it isn't, money is being left on the table.
Over one hundred years ago, the assembly line was revolutionary, allowing early 20th century manufacturers to increase productivity exponentially. Sometimes, changing how you work can make a huge difference.
Just like the assembly line skyrocketed automobile manufacturers, EMS services can use tools and systems to optimize cashflow, increasing the amount and regularity of reimbursement.
AIM offers revenue cycle management (RCM) for EMS companies who want to ensure they aren't leaving money on the table. With AIM's RCM, they evaluate every step of your billing workflow, ensuring there are no holes in the system. This process is similar to building an assembly line - AIM ensures each step leads to a logical conclusion.
Conclusion: How Ambulance Companies Can Survive Hard Times
For ambulance companies who want to reduce costs during these difficult times, the first step is finding the problem. Then, separate issues into controllable and uncontrollable categories.
Look at your possible decisions. Where can you cut costs? Is your billing workflow generating steady cash flow? Are your ePCR, dispatch software, and EMS billing tools working, or are you paying for extra things you don't need?
AIM offers scalable and efficient tools at the best prices. We aren't in the business of sneaking in rate hikes or sliding in hidden expenses. We're built to help EMS, and we're passionate about the work of ambulance providers all over the world.
Contact AIM's team
to see how our EMS software solutions and expert billing services can save you money, increase efficiency, and help your company weather the storms today, and in the days ahead.