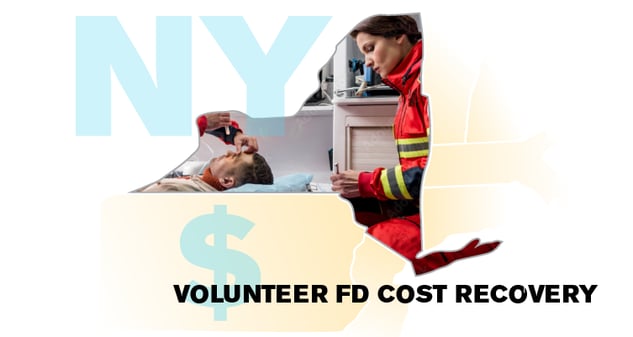 With the recent passing of new legislation, New York will allow volunteer fire departments to bill insurers for ambulance transports. This law changes the game for fire departments who operate ambulances but have struggled to recuperate costs.
Rather than broad tax hikes, NY Fire/EMS can now bill for specific medical calls. Large departments will be able to strengthen their services, while smaller departments who were forced to close may reopen. While this legislation presents exciting opportunities, there is work to do.
What does this law mean for volunteer fire departments around New York? How will fire departments transition into this new phase of direct billing? Below, you'll find answers to these questions and information on how AIM can help.
What Does the EMS Cost Recovery Act Mean for Volunteer Fire Departments In NY?
The new cost recovery law allows volunteer fire departments to start billing insurance providers, Medicare, and Medicaid for their ambulance transports. Prior to this, New York was the only one of fifty states who didn't have such a law in place.
Now, fire departments will be reimbursed for their emergency medical services, potentially bringing in millions of dollars of unrealized revenue. This gives communities the opportunity to reinstate volunteer fire/EMS programs that were previously unable to keep their heads above water. It will also allow working volunteer fire departments to bolster their services.
This is good news. But how will these changes effect fire departments on a practical level? How will volunteer Fire/EMS agencies adjust from tax dollars to an active billing service? Regardless of where a fire department finds itself on this journey, AIM is ready to help.
AIM offers billing solutions to fire departments in all stages:
Volunteer fire departments with no established billing service.
Fire departments with some billing professionals and tools.
Fire departments wanting to integrate billing, dispatch software, and ePCRs.
Below, you'll see how AIM can tailor its services to your department - regardless of where your fire department currently stands with EMS and medical billing.
Full EMS Billing Services for New York Volunteer Fire Departments
Some fire departments will be new to the medical billing process. AIM understands that it's daunting to build an effective billing department from scratch. Many times, communities will need to hire billing professionals, acquire EMS billing software tools, and establish a consistent workflow.
It's difficult to get everything just right, and easy to get things wrong.
AIM has a team of professionals who understand the ins and outs (and ups and downs) of EMS billing. AIM has billing experts who've handled EMS reimbursement for many, many years. If your department wants their billing process in competent and dedicated hands, then the team at AIM has you covered.

Here are a few hallmarks of AIM's full billing service:
Trained and certified billing professionals.
Our billers are NAAC-certified and experienced in many different EMS systems.

We stay up to date on all codes

.

With the combination of updated software and industry-savvy professionals, AIM stays current on all the latest billing codes and insurance requirements.

Less time wasted on follow-ups and short payments

.

Our full service will handle everything. You save lives; we make sure you're reimbursed for the noble work you do.
We understand some fire services will already employ billing professionals. In these cases, AIM has cutting edge tools to make their job easier.
Below, you get a glimpse into AIM's intuitive billing software.
NY FD/EMS Looking for Quality EMS Billing Software
Perhaps you have the capacity to hire an in-house billing team, but still want the best tools. The last thing NY fire departments need during this transition is to get bogged down with technicalities. To prevent this, AIM has built optimized billing solutions for your team.
AIM has billing tools that help fire departments and EMS enhance their billing cycle. These tools provide the freedom to take control of your billing process. AIM has developed an expansive, customizable, yet straightforward billing software that can scale to serve volunteer fire/EMS services of all sizes.
Here are several features that makes AIM's software so effective:
Cloud-based.
AIM's billing software does not rely on in-house servers. This is incredibly helpful, as it reduces the need for companies to constantly pay for maintenance or have IT experience. Also, teams can access cloud-based software anywhere there's an internet connection. Finally, cloud-based software is a safe and widely accepted model within healthcare.

Support teams

.

AIM never leaves a partner in the dark. Anytime you have a question or concern, we're ready to provide a solution. This billing software has been developed by and for real billers. We know the day-to-day struggles of EMS billing, and we design our tools to combat them.

Relevance and updates.




AIM maintains relevance in several ways. First, we stay up to date on the changes and needs within the EMS and medical billing community. Second, we're always listening to our customers. When you voice a desire for a change, we listen. This is one reason we have over 94% client retention. You're not a number; you're a person.
At AIM, we take pride in providing our Fire and EMS brothers and sisters with the tools they need. If you'd like more specifics on how we're building better billing products, read our article on the premium EMS billing features we offer for 2022.
EMS billing is our specialty, but it's not our only specialty.
Full Integration Between Billing, Dispatch, and ePCR Software
The age of the internet has arrived, and we no longer settle for a disconnected life. All our banking, email, music - even our camera - are on a single smartphone. This integration makes life simple and efficient. AIM understands that this kind of integration is also a game-changer in the professional environment, particularly in the Fire and EMS workforce.
AIM offers a full suite of interconnected EMS tools. Whether it's dispatch software, patient care reports, or billing professionals, AIM offers a system that brings everything and everyone together. Also, choosing AIM for all your EMS software needs means you don't need to contact a bunch of separate companies when something misfires. Just call AIM.
For those New York volunteer fire departments looking to expand their software, we are here to help.
Here are several EMS tools we offer:
Dispatch software.
AIM's dispatch software improves data quality and reimbursement potential.


ePCRs.
AIM offers user-friendly ePCRs. AIMs ePCR software can improve your data accuracy while getting crews back on the road in a timely manner.


Revenue cycle management.
Our professionals will work to ensure your department is consistently reimbursed to the full amount.
You can learn more about these tools by reviewing our EMS software page.
New York Fire Departments: AIM Has Billing Solutions
We're excited to talk with the professionals in the fire and EMS services. We're proud that volunteer fire departments in New York have a path toward better reimbursement for ambulance calls. To see how AIM has enhanced other ambulance services, take some time to scan these case studies.
Finally, don't hesitate to contact AIM for a free demonstration and assessment. We'll make sure you get the billing service that meets your department's specific needs, optimizes reimbursement, and ensures long-term success.