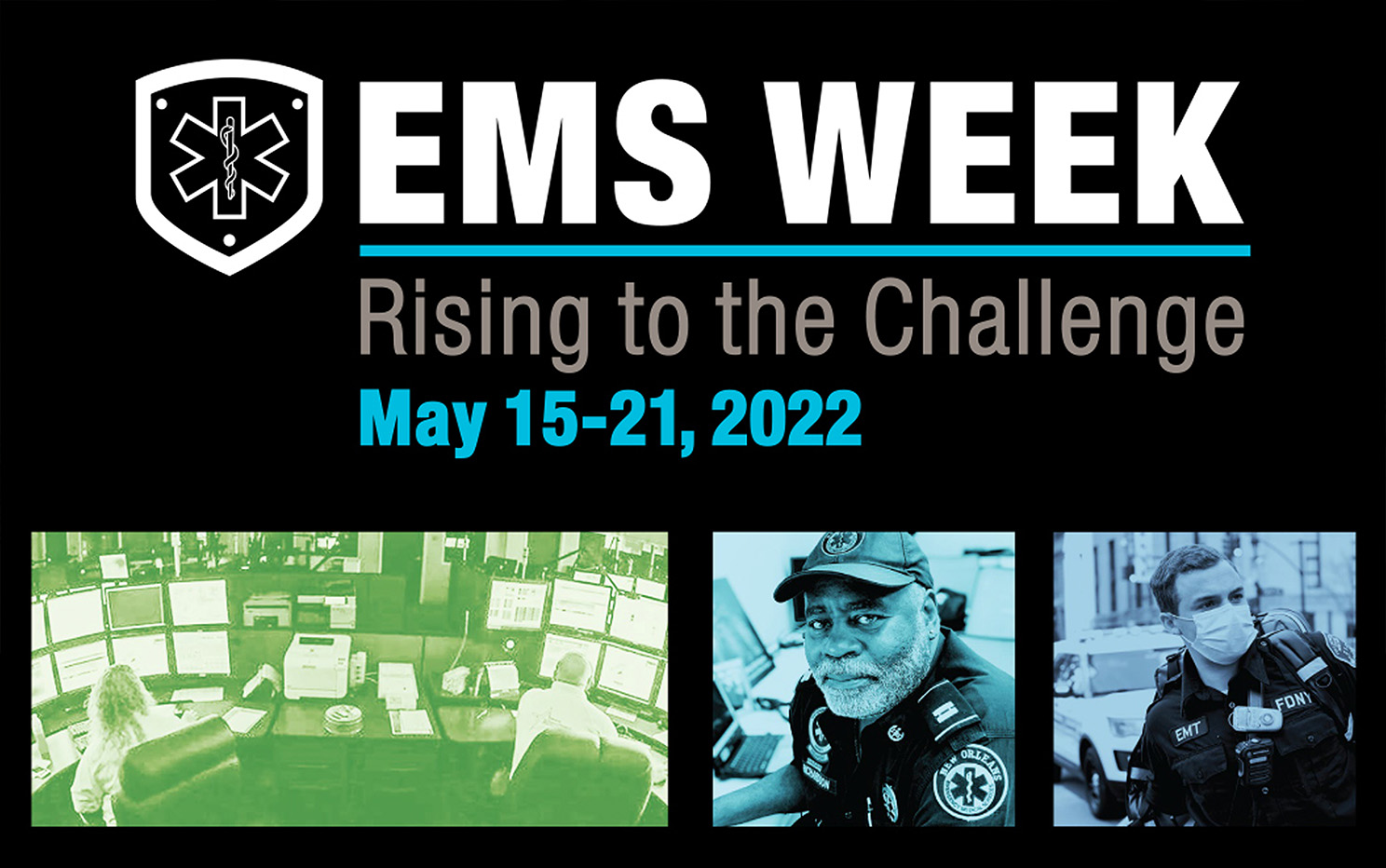 This is the 47th annual celebration of EMS Week since its inception and the third EMS week since the fateful spring of 2020. This years' theme, rising to the challenge, reminds us of the dedicated EMS professionals who, in these past two years, have done just that: risen to the challenge.
The AIM family thanks all the EMS professionals who have worked so hard. Thank you to the managers, the dispatchers, the paramedics, the EMTs, the billers and administrators, and all others who take part in the emergency response system. We appreciate you.

We know our EMS brothers and sisters still require support. At AIM, we take joy in our partnership with EMS agencies around the country. Like you, in 2022, we're working harder than ever to confront the current and coming challenges.

EMS Week is a celebration and a call. Its a celebration of the individuals who dedicate their lives to helping others and a call for increased opportunity, stronger resources, and tighter unity within emergency medicine.

Here's how AIM is answering.
EMS Professionals: AIM Has Your Back
AIM understands that reducing your burden in the office increases your focus in the field. We've worked to develop new tools and enhance existing products. We don't want you bogged down with endless paperwork, complicated billing processes, or untimely audits.
AIM continues to hone a full suite of tools for EMS professionals:
Dispatch software – clear and complete.

Your dispatchers want the simplest, clearest, most versatile tools, so they can answer calls effectively and collect data. AIM offers tools that help dispatchers do their jobs.

ePCRs - detailed and user-friendly.


A good ePCR platform gives your crews the versatility to complete their documentation accurately and get back on the road. Quick and accurate reports make everyone happy.

EMS Billing Software – easy to use workflows that produce quality results.

Our billing software offers a dynamic combination of cutting-edge cloud-based software built specifically for ambulance billing and real customer service and support. We understand the intricacies of EMS billing. Our billing software is made for and by real EMS billers.

EMS Billing Services – improving reimbursement and compliance.

Feel confident knowing that ambulance billing professionals are managing the critical details so that your agency is getting paid and staying compliant.
Though we offer these essential tools for today, we also look to the future.
EMS is Changing in 2022
EMS changes, and so do we. EMS week came into existence in the 1970s. Since then, emergency medical services have been undergoing national shifts, and the changes aren't stopping. The growth of community paramedicine, alternative destination programs, and increasing 911 calls has led to a demand for companies who think on their feet.

AIM is ready to change with you. Our ability to adapt to our partner's needs is one of the reasons we have over 94% client retention. As you grow, so will we.

In 2022, we know EMS needs better reimbursement and increased funding. We believe heroes should be honored and generously rewarded for their time and sacrifice.

AIM offers many tools to increase and improve your cashflow:
Quality assurance and improvement.
There's no reason to ensnare reimbursement due to a misunderstanding. AIM's billing software ensures you send the best bill on time, every time.

Billing software that's streamlined and simple.

You need to stay on top of bills to ensure revenue doesn't stall. This means tackling on the most important tasks but never forgetting the cases that still require attention. AIM's tools keep you on track and ensure nothing is lost.

Reports that make sense.

To know where you're going, you need to know where you are. AIM's software allows simple report generation, compiling your data into a working format. Also, we're offering a new dashboard feature that will give instant metrics on key billing information.
If you're curious to learn more about what we have in store for EMS this year, read our post on our premium billing software 2022.
A Commitment to Overcome EMS Obstacles: The Secret
EMS is well known for an evidence-based approach. By staying alert, emergency care has made great advances in medical equipment, medications, and treatment protocols.

AIM takes a similar approach; following the evidence, listening to your needs, developing products, testing rigorously, and revising as needed.

The secret is you. We listen to your needs. How? By keeping our eyes on the road, our ears to the ground, and our fingers in the wind. We listen, and we respond.

To learn more about our practical EMS dispatch, ePCR, and billing solutions, contact AIM for a free demonstration. We'd love to get to know you, extend our thanks for your service, and help in any way we can. Happy EMS Week!